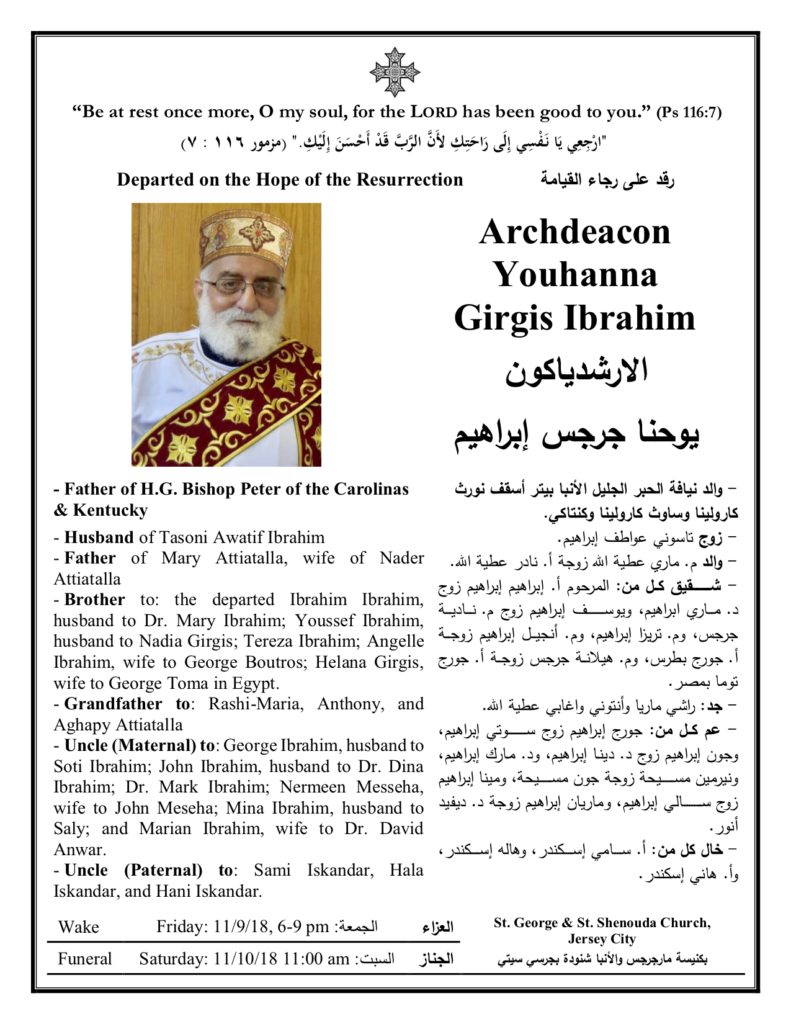 Reposed in the Lord – Archdeacon Youhanna Girgis Ibrahim Flyer
Departed on the Hope of the Resurrection
Archdeacon Youhanna Girgis Ibrahim
Father of H.G. Bishop Peter of the Carolinas & Kentucky
Husband of Tasoni Awatif Ibrahim
Father of Mary Attiatalla, wife of Nader Attiatalla
Brother to: the departed Ibrahim Ibrahim, husband to Dr. Mary Ibrahim; Youssef Ibrahim, husband to Nadia Girgis; Tereza Ibrahim; Angelle Ibrahim, wife to George Boutros; Helana Girgis, wife to George Toma in Egypt.
Grandfather to: Rashi-Maria, Anthony, and Aghapy Attiatalla
Uncle (Maternal) to: George Ibrahim, husband to Soti Ibrahim; John Ibrahim, husband to Dr. Dina Ibrahim; Dr. Mark Ibrahim; Nermeen Messeha, wife to John Meseha; Mina Ibrahim, husband to Saly; and Marian Ibrahim, wife to Dr. David Anwar.
Uncle (Paternal) to: Sami Iskandar, Hala Iskandar, and Hani Iskandar.
Wake Friday: 11/9/18, 6-9 pm: St. George & St. Shenouda Church, Jersey City
Funeral Saturday: 11/10/18 11:00 am: St. George & St. Shenouda Church, Jersey City